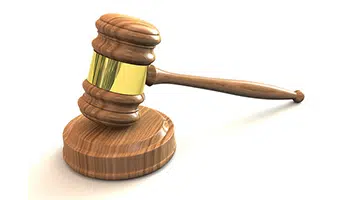 Indiana County President Judge William Martin has scheduled a hearing on February 13th on 32-year-old James Eugene Brown's omnibus pretrial motion, which seeks to dismiss homicide by vehicle charges against Brown, suppress the blood test evidence against him, and change the venue for his trial.
Brown is accused of crashing a car into Pikel's Top Tier Fuels in Home last July, trapping and killing 52-year-old Melissa Myers of Commodore, who was working inside the gas station building, which caught fire when the car burst into flames. He admitted to police afterward that he had taken heroin prior to the crash.
In Westmoreland County, Judge Christopher Feliciani has granted a 60-day continuance in Clayton Mibroda's appeal of his third degree murder conviction for the death of his 20-day-old daughter at their Bolivar home in 2011. Mibroda has been denied in multiple previous appeals, but last July, Feliciani agreed to reconsider the case, based on a letter Mibroda presented from Brandon Green, an Indiana man who is in prison for aggravated assault on his stepson. In the letter, Green wrote that he has evidence that would exonerate Mibroda, who has claimed the mother, Kayla Lichtenfels, is to blame for the baby's death. Green had a previous relationship with Lichtenfels.
The judge's latest order comes after a status conference on Tuesday. It notes that the continuance was granted for consideration of new evidence and "to access previous issues which may not have been allowed by (Mibroda's) former counsel."
Mibroda is serving fifteen to thirty years in state prison.