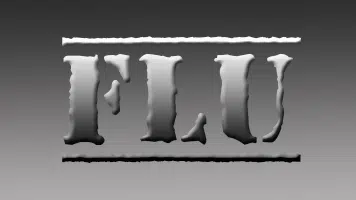 For the first time this flu season, the state Department of Health has declared the flu "widespread", the highest classification of confirmed flu cases in the state index. It's what usually happens right after families get together for the holidays, but so far the flu season is nowhere near as bad as it was last year.
Eight people have died from complications of the flu this season, with four of them in the latest reporting period, the week ending December 29th. Four of the deaths have been people over the age of 65, three were people between age 50 and age 64, and one between age 19 and 49. Last year, there were 256 deaths due to flu in Pennsylvania.
There have been 6,435 lab-confirmed cases of the flu so far in Pennsylvania since the start of flu season on October 1st, but the actual number of cases is likely much higher, since many people don't seek medical care, and some health providers diagnose and treat flu victims without seeking lab analysis.
Of the cases reported this season, Indiana County is faring pretty well, compared to some of our neighbors. There have been 42 cases reported so far. Forty-two of them were Type A and two were Type B.
Neighboring Cambria County has had 167 confirmed flu cases to date, and Jefferson County has had 110. Clearfield County has had 78, and Westmoreland only 30. By far, Type A has been the most troubling strain. In Indiana County and its four neighbors, there have been 369 cases of Type A flu and 33 cases of Type B.