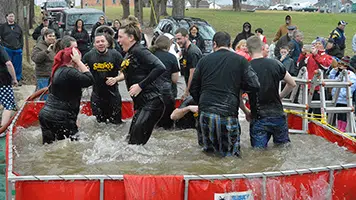 The 8th Annual Polar Bear Plunge in Blairsville went off nearly without a hitch this year.
The one problem organizers encountered was that once again, the Conemaugh River was moving too fast for people to be in there safely. Rather than postpone the event, like what happened last year, organizers were able to use a water retention tank from the Blairsville Fire Department and pump water from the river into it. The idea went over well with all the participants, including Bill Lenhardt, one of the "original idiots" who was there at the start of this tradition.
Ab Detorre with the Polar Bear Plunge said that they are thinking of investing in a frame-sided pool for future use.
No word yet on how much money was raised at the annual fundraiser, but that money will go towards Renda Broadcasting's Teddy Bear Fund Drive, which helps IRMC's Pediatrics and Childrens' Hospital in Pittsburgh.