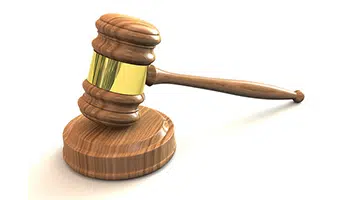 There has been a development in the homicide by vehicle case against James Brown, the man accused of driving his car into Pikels Top Tier Fuels service station in July, trapping and killing a Commodore woman who was at work inside.
Brown has notified the court that he would like to file a petition to suppress evidence in the case. His request was forwarded to the Indiana County Public defender's office yesterday.
Brown is being held at the Indiana County Jail with bond set at $250,000. He's charged with six felony offenses, including two counts of accidents involving death or personal injury while not licensed and single counts of homicide by vehicle, homicide by vehicle while driving under the influence, and aggravated assault by vehicle while DUI. There are also two misdemeanor DUI charges and nine summary traffic offenses.
The crash happened on Route 119 in Home when Brown's northbound vehicle exited the sharp curve, ran over a gas pump and smashed into the building, causing both the car and the building to burst into flames. 33-year-old Melissa Myers died at the scene. Brown told police that 32-year-old Michael Antony White of Punxsutawney was driving but a witness said it was Brown, whom police say had taken heroin and smoked marijuana just before the incident. White was not charged in the crash. Brown later admitted he was driving because he said White had also taken drugs and was in no shape to be driving. There is no word on whether that statement is the evidence he now wishes to suppress.
Brown was formerly listed as having no address, but subsequent court documents show him with a Rossiter address. He will turn 34 years of age on Sunday. He's scheduled for Criminal Call next Friday.