State police have arrested seven of ten individuals involved in a drug bust called "Operation Grinch".
The seven who were apprehended this morning included 43-year-old Edward Russian, 37-year-old Justin Urban, and 30-year-old Mary Gump of Saltsburg; 28-year-old Brandon Condron of Greensburg; 34-year-old Joshua Chicka of New Alexandria; 44-year-old Pamela Hartzog of Blairsville; and 34-year-old Randy Normand of Indiana. Three remain at large: 25-year-old Kylee Marie Gump of Saltsburg, 33-year-old Roxanne Marie Mroskey of Glen Campbell and Joshua Adam Gates, a 31-year-old from Downsville, Louisiana. The charges against all ten range from Possession with intent to deliver a controlled substance, possession of a controlled substance and criminal use of a communications facility.
The investigation has taken the better part of a year, and State Police Lieutennant Joseph Loughran said that these investigations take time.
–Lt. Joseph Loughran
State police say the investigation continues, and if you have any information on the whereabouts of Gump, Mroskey and Gates, contact state police at 724-357-1960.
To see a full video of Friday's news conference, log on to our Facebook page.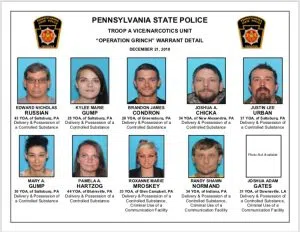 (Photos provided by State Police)