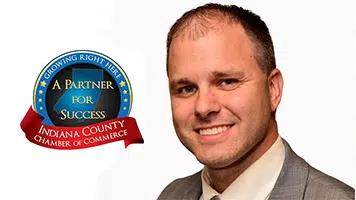 From the Indiana County Chamber of Commerce:
The Indiana County Chamber of Commerce Board of Directors is announcing that Mark Hilliard has been named as the new President of the Indiana County Chamber of Commerce.
Hilliard, 41, is currently the General Sales Manager for Renda Broadcasting. He has been with Renda Broadcasting since 2003. Hilliard also currently serves on the YMCA Board of Directors. Hilliard replaces former president Jim Struzzi who leaves the Chamber to become the next State Representative in the 62nd Legislative District.
Hilliard brings a wealth of experience in helping to grow and develop businesses in Indiana County. His strong background in communications, management, and community relations allow him to be an asset to the Indiana County Chamber of Commerce and its members.
"I am beyond excited and honored to be chosen for this important position as President of the Indiana County Chamber of Commerce," Hilliard said. "Indiana County is on the verge of amazing things, but it is only through hard work that we are going to get there. Jim Struzzi has done a tremendous job of positioning the Chamber and Indiana County for great success in the years ahead. I look forward to helping continue what Jim has built, strengthen our business community, and prepare our current and future members to take full advantage of the incredible opportunities that lie ahead."
"I am extremely thankful to Renda Broadcasting and their tremendous staff for all of the experiences that I've had over the years. I've been able to build a lot of great relationships throughout our community and have made some wonderful friends along the way. I plan to build upon those experiences and relationships as I begin this exciting new chapter."
As the new president, Hilliard plans to create new opportunities to showcase Indiana County, the business community, and chamber members to the entire region. He wants to focus on partnering with local schools and organizations to help develop and prepare our future Indiana County workforce. In addition, he looks forward to utilizing social media to create additional opportunities for exposure for Chamber members and for the community as a whole.
Hilliard and his wife, Amanda, have four children currently living in Armstrong Township. He is an Indiana University of Pennsylvania graduate with a degree in communications/media and also has a Master's degree in Business Education from Grand Canyon University. He is a 1996 graduate from Homer-Center high school.