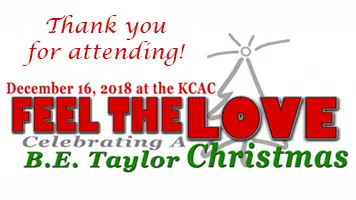 Last night's "Feel The Love: Celebrating A B.E. Taylor Christmas" concert at the KCAC was a smash success.
The KCAC was nearly sold out for last night's concert which was part celebration of the holiday season and part tribute to the late B.E. Taylor, with the band playing live along with some of the video from past B.E. Taylor concerts on some of the songs, while others were performed live by B.E.'s son B.C. Taylor and other members of Taylor's family. After the show, B.C. said it was a great gift to be able to perform his father's songs for a very appreciative KCAC audience.

B.C. Taylor
Rick Witikowski said that he was definitely feeling the love, especially after seeing the glow sticks in the audience provided by the Indiana County Tourist Bureau, which had become a KCAC tradition for this concert.

Rick Witikowski
Opening for B.C. Taylor and his band was Blairsville Middle School student and YouTube sensation Adrian Matthew, who said that the KCAC crowd was the largest he'd ever perform in front of.

Adrian Matthew
The "Voices of Christmas" choir made up of student singers from across the county and the Homer-Center Junior/Senior High Drumline were also part of the performance last night. The show benefited Renda Broadcasting's Teddy Bear Fund Drive which supports IRMC's pediatrics and Children's hospital in Pittsburgh.