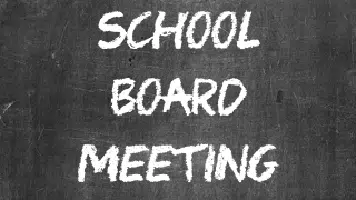 The Marion Center School Board last night discussed some potential plans for their high school complex.
As part of their Combined Session Meeting, school board members heard a presentation from HHSDR Architects and Engineers for two projects. One project would be for the High School Library, building a new library and either eight new classrooms or building improved science labs. The last time the library was renovated was in 1960, and the project would also replace portions of the original building that was built in 1929. The other project would be the gravel parking lot, and the project would add handicapped parking and a sidewalk. Board President Gregg Sacco said that these are just options at this point, and the plans could change or they may not take action at this point.
Board President Gregg Sacco
In other business, the board approved by an 8-1 vote to award a five-year contract for Superintendent Clint Weimer, which will run from July of 2019 to June of 2024. Weimer talked about what he wanted to focus on in the next phase of his time as a superintendent.
Superintendent Clint Weimer
Also, the board approved hiring Rick Gemmell and Doug Snyder to investigate incidents where the school alarm is activated after school hours and when school is not in session at a rate of $50 an incident. The board also approved adding March 15th as a regular in-session school day to make up for the weather-related closure on November 15th.