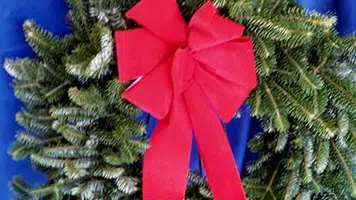 Today will be a solemn ceremony to pay tribute to veterans during the holiday season.
Today is the fourth annual "Wreaths for Indiana County Veterans" program.  The main program will be at the Indiana County Veterans Memorial at the Indiana County Courthouse at 12:00 today, where a ceremonial wreath will be laid there to pay tribute to the veterans.  Wesley Wertz with the program said that there will be a second program that will be held at nearby Memorial Park where wreaths will be laid at all of the graves in the park.
Wreaths will also be laid at cemeteries throughout the county.  Money for the wreaths is coming from donations, with any excess money after the wreaths are paid for going to the Department of Veterans Affairs.
The ceremony at the courthouse starts at noon, with the second ceremony starting at 1:30.