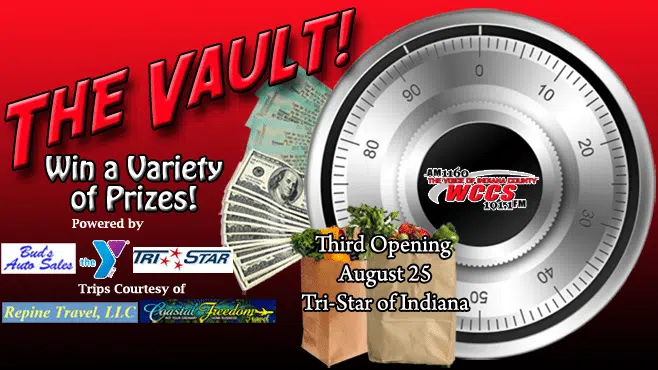 Renda Broadcasting and your Hometown Radio Stations – WCCS AM 1160 and FM 101.1,  WDAD AM 1450  and 100.3 FM, Cat Country 106.3 FM and U92.5 FM – are pleased to announce the return of "The Vault!"
The Vault, now in its fifth year, is one of our favorite and most popular events, with great prizes in store for our lucky winners. The Vault is your key to fantastic prizes this summer including up to $1000 in cash, up to $500 in groceries, amusement park tickets, and trips from Repine Travel, LLC and Coastal Freedom!
Our first Vault opening at Vault Title Sponsor Bud's Auto Sales (June 16) was a huge success, with three big winners: Carrie Stahlman of Indiana ($250 cash), Nick Franco of Home (Sheetz and Get Go cards) and Terry Butchkoski of Indiana (park and sports ticket package).
The second Vault opening was at Vault Title Sponsor YMCA of Indiana County (July 21) was another huge success, with three big winners: Sharon K Brown of Lucernemines (park tickets package), Donna Banko Jobe of Indiana (gas and groceries) and Teresa Shields of Clarksburg (awesome choice of three trips from Coastal Freedom Travel)!
The third Vault opening has been set for 10 am on August 25 at Tri-Star of Indiana! Be there by 9:30 am! Prizes include cash, gas and grocery gift cards, two trips: A cruise and a trip to Ocean City!
Beginning May 14, you can get your key by winning a  Hometown Radio Station wrist band on-air with Todd Marino on Indiana in the Morning (WCCS) and all three shows on Cat Country 106.3 FM with Andy Hart in the morning and Jim DeCesare and Chuck Clark in the afternoon, or by registering at one of the title or participating sponsors listed below.
The Vault is sponsored by Bud's Auto Sales, the YMCA of Indiana County, and Renda Broadcasting Hometown Radio Stations 1160 WCCS, 1450 WDAD, Cat Country 106.3 FM and U92.5 FM.
[table]
[/table]

[table]
Thank you to our Trip Sponsors, Coastal Freedom Travel and Repine Travel, LLC
[/table]
[table]
[/table]
[table]
Our Winners from the Final Vault, Aug. 19 2017 at Luther Ford Lincoln:
Milissa Johns of Glen Campbell (40″ HD TV from Luther Ford, Terri George of Indiana (cruise from Repine Travel, LLC), Pat Craig of Indiana (Ocean City trip from Coastal Freedom) and Bev Bence of Homer City ($750 cash)
 
 
[/table]